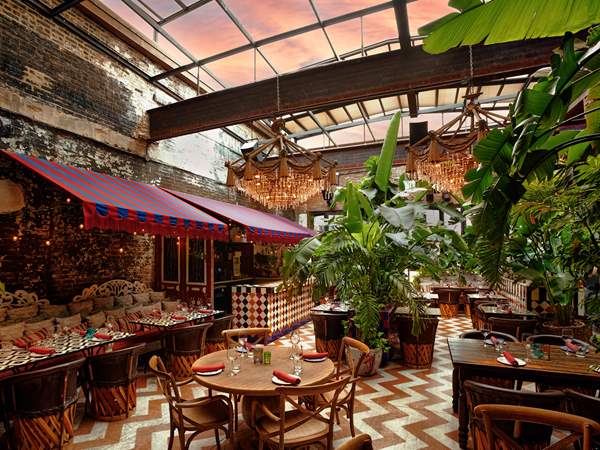 Named after the bohemian freethinkers of the 1950s and '60s, Beatnik West Town celebrates their spirit and artistic legacy. As a muse and historical touchstone, one beatnik commands our nostalgic reverence: Yves Saint Laurent, a pioneering genius who transformed his era and democratized fashion with timeless and seductive design. At Beatnik West Town we are constantly inspired by YSL and the beatnik generation's sense of style, aspiration and rebellion to create an exotic escape with progressive, globally inspired food, cocktails and music.
Created by Maison Bonhomme, Beatnik West Town's aesthetic is driven by a triumphant fusion of three countries close to our heart: Morocco for its audacious combinations of color and passionate artisans, France for its music and artistic confidence, and Italy for a healthy dose of polish and panache to sex it all up.
The contrasting styles and textures of Beatnik West Town feature antique pieces from around the world and more than 400 living plants throughout the 8,000-square-foot, 200-seat space. Expanding on the definition of what a Chicago restaurant should and could look like, our vast collection of exceptional antiques was carefully curated over two years, and when coupled with custom-designed pieces, push the boundaries of maximalist restaurant design in Chicago. Some of the more remarkable pieces in our collection include:
• An enormous, 40-foot-wide by 10-foot-tall, Carved Teak Façade was imported from Bali, where it had been the façade of a grand home, to be a centerpiece of the dining room // circa 1900
• 15 Massive Crystal Chandeliers were salvaged from the Ballroom of the Historic, Yamasaki-designed century Plaza Hotel in Los Angeles and today hang throughout the courtyard and dining room, generously adding history and glamour to the space // 1966
• Glazed terra cotta tiles were used throughout the Andalusian-inspired courtyard to design and fabricate the bar and several spectacular custom planters
• The main bar was built by marrying an Art Deco Tile Front Counter from Paris (circa 1920) and Artisanal Brass Elements (20-foot-long elaborate Brass Bar Counter and Four 6-foot-wide Multi-tiered Brass Shelves) fabricated by Chicago's Wayward Machine Co.
• 20 Restored Cast Iron "Teardrop" Chicago Street Lights were flipped upside down and hung above the main bar // circa 1970
• Monumental 30-foot-wide by 13-foot-tall Pine Cabinets from the Terme di Salsomaggiore were used as both decorative elements and as the principal storage spaces for the bar team // Parma, Italy // circa 1930
• Newspaper Letter Press Printers Trays were used to create texture by cladding one of the bars and framing the open kitchen // circa 1900
• Custom Wall Coverings and Floor Mural by local artist Erik DeBat inspired by the Prints & Garments created by Fashion Icon Emilio Pucci // Chicago // 2017
• Wrought Iron Wellhead from an Olive Grove in Malaga, Spain owned by an American who worked for the Secretary of State in the early part of the 20th century // 18th century
• Salvaged sculptural elements from a David Best temple created for the Burning Man festival
• Draper's Table // Italy // circa 1900
• Farmhouse Table // Italy // circa 1900
• Shop Counter from the Oldest General Store in Illinois // Woodstock, IL // circa 1900
• "Caramelera" Candy Display from a Sweets Shoppe // Argentina // circa 1920
• Carved Wood Doors from a Home in Egypt // circa 1900
• Bronze Fountains // American // circa 1920
• Parisian Patisserie Counter // France // circa 1900
• Cast Iron Planters // American // circa 1930
• Cast Stone Planters // France // circa 1970
• Industrial Vessels Repurposed as Planters // American // circa 1940
• Bronze Candelabras // Argentina // circa 1900
• Italian Seltzer Bottles // Parma, Italy // circa 1900
• Collection of Hand Knotted Rugs throughout // Middle East, South Asia & Turkey // circa 1970
Produced by partners Daniel and Marina Alonso, Nader Hindo, Fadi Hindo, Rafid Hindo, Meghan Vietti Perdue, Marcos Campos, James Barnett, Juan Carlos Alonso and Saam Hagshenas.